Providence College Renews Partnership With Paciolan
Implements Digital Ticketing and Continues to Leverage Ticketing and Marketing Solutions
(May 08, 2014)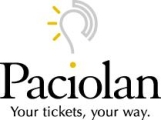 IRVINE, CA and PROVIDENCE, RI -- (Marketwired) -- 05/08/14 -- Paciolan, the leading provider of ticketing, marketing, fundraising and sales automation solutions in college athletics, today announced that Providence College (Providence) has renewed its partnership with the company. Providence will continue to leverage Paciolan's best-of-breed online ticketing system and marketing services, and will implement the company's Access scanning technology. Paciolan is a subsidiary of the Philadelphia-based sports and entertainment firm Comcast-Spectacor.
"Our partnership with Paciolan provides us with a first-class ticket operation that enables us to deliver a superb customer experience," said Robert Driscoll, Jr., Athletic Director at Providence College. "With Paciolan, we are able to utilize resources and have a system that fully encompasses our operations to support initiatives across all of our departments."
With the renewed partnership, Providence recently added and installed Paciolan's Access management solution to empower the college with a robust digital ticketing system. Providence will leverage the technology to provide fans with print-at-home tickets that can be scanned at men's and women's hockey events, as well as women's basketball games that will help better serve their customers by avoiding will call lines at the box office. The Access technology will also further expand Providence's mobile ticketing efforts through 2D barcode delivery for students.
"We are constantly improving and Paciolan provides us with the tools to be creative and think outside of the box," said Christine Higgins, Ticket Manager at Providence College. "It's exciting to have the technology to expand our efforts with digital ticketing and provide an added value to our dedicated fans and season ticket holders."
Providence will continue to leverage Paciolan's industry leading eVenue online ticketing solution to efficiently sell tickets in real-time through their eCommerce website at Friars.com. Through their branded website, Providence enables fans to purchase single, packages, or season tickets along with powerful account management tools.
"Through our website we directly link to numerous promotions and will be offering the ability to 'Pick Your Own Seat' through an interactive map for both hockey and men's basketball season tickets. It's important for our fans to have quick access to all of the options available to them," added Higgins.
The college will also continue to utilize Paciolan's marketing services, including the email marketing solution, PACmail, and the PAC Social Media platform to engage fans, promote upcoming events, and sell more tickets. Additionally, Providence continues its partnership with Global Spectrum to assist with their season ticket renewals, group sales, mini plans and single purchases. Global Spectrum is also a subsidiary of Comcast-Spectacor.
"Paciolan is thrilled to extend its partnership with Providence College," said Jane Kleinberger, Founder of Paciolan. "We strive to provide the infrastructure and technology to assist our partners with innovative solutions and a platform to support successful initiatives."
About Paciolan
Founded in 1980, Paciolan is the leader in venue enablement, powering ticketing, fundraising and marketing technology solutions for leading organizations across North America. Collectively, Paciolan powers over 500 live entertainment organizations that sell over 120 million tickets annually. Primary markets include college athletics, professional sports, performing arts and arenas. Paciolan is a wholly owned subsidiary of Comcast-Spectacor.
Visit www.paciolan.com for additional company information.
Add to Digg Bookmark with del.icio.us Add to Newsvine
Paciolan Media Contacts:
Craig Ricks
Paciolan
Vice President of Marketing
949.823.1636 (O)

Steve Brown
Paciolan
Corporate Marketing Associate
949.823.4506 (O)

Providence Media Contact:
Steve Napolillo
Providence College
Senior Associate Athletic Director, External Relations
401.865.2677 (O)


Copyright @ Marketwire
Page: 1
Related Keywords:
Marketwire, Business, Sports, Marketing Services, Entertainment, Sports, Hockey, Basketball, Email,
---