Microsoft Deploys Meru Wi-Fi to Support Video and Voice Demonstrations at CeBIT 2014
Microsoft IT Leadership Names High-Density Client-Handling Capabilities and Unmatched Reliability as Key Criteria for Selection
(March 03, 2014)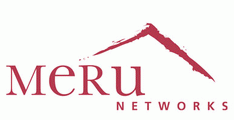 MUNICH, GERMANY -- (Marketwired) -- 03/03/14 -- Meru Networks® (NASDAQ: MERU), a leader in Wi-Fi networking, today announced that Microsoft® has chosen to deploy Meru Wi-Fi solutions to support demonstrations of its voice and video solutions at CeBIT, which will be held March 10 through 14 in Hanover. This is the third consecutive year that Microsoft has deployed a Meru network at CeBIT, the world's largest IT trade show.
"We have once again chosen to deploy Wi-Fi from Meru in support of our stand at CeBIT," said Monika Friedrich, fairs and events manager for Microsoft Deutschland GmbH. "We are convinced about the ability of the Wi-Fi technology of Meru to handle the high client densities at the show."
More than a thousand visitors and journalists, more than 600 stand employees and approximately 45 partners at the stand will have access to the Meru network via mobile devices such as smartphones, tablets and notebooks. The 3000 m2 stand -- which spans several floors and includes a VIP area -- utilizes six different network names (SSIDs). This project is especially ambitious in Hall 4 at CeBIT, where many large exhibitors, all of whom also seek to provide visitors with high-performance WLAN, will be represented. CeBIT organizers expect up to 70,000 visitors each day to Hall 4 alone.
To support the Microsoft stand, German IT systems house M.S. IT-Services GmbH will install 60 Meru Networks AP332e-series access points along with Meru MC4200 mobility controllers. Meru's channel layering helps ensure broad WLAN coverage, reliability and support for high capacities. The network design reflects Microsoft's anticipation that several hundred clients, including web-enabled TV devices such as Microsoft Xbox One systems, will be simultaneously connected to the exhibit's WLAN network on a regular basis during the show. At CeBIT 2013, Microsoft frequently saw more than 600 devices connect simultaneously to the stand's WLAN. An HP wired network, also installed by M.S. IT-Services GmbH, will include 1,050 ports, 24 physical and approximately 260 virtual servers with firewalls.
Microsoft Berlin headquarters also equipped with Meru
Microsoft Deutschland GmbH recently turned to Meru to equip the showroom at the new branch office in Berlin with two virtualized wireless networks. Microsoft will use the Meru-enabled modern facilities and lounges to host new product presentations. The high-performance WLAN supports the data, speech and video applications of Microsoft solutions and services.
"We are very pleased that Microsoft has again selected Meru to support its extensive exhibit at CeBIT," said Tabatha von Kölichen, regional sales manager for the DACH region at Meru Networks. "This deployment builds on close work between the two companies to help ensure that Microsoft's highly advanced voice and video applications always give their users the best possible experience during the world's largest IT trade show."
About Meru Networks
Meru Networks (NASDAQ: MERU) is a market leader in the development of mobile access and virtualized Wi-Fi solutions. Meru's MobileFLEX wireless architecture addresses the ever-growing need for higher bandwidth and higher client densities. The Meru Identity Manager solution greatly simplifies secure device on-boarding and the company's unique Context-aware Application Layers enable dedicated channel assignments for specific applications, devices and usage scenarios. Meru customers include Fortune 500 businesses as well as leaders in education, healthcare and hospitality. Founded in 2002, Meru is headquartered in Sunnyvale, Calif., with operations in North America, Europe, the Middle East, Asia Pacific and Japan. Visit www.merunetworks.com or call (408) 215-5300 for more information.
© 2014 Meru Networks, Inc. Meru Networks is a registered trademark of Meru Networks, Inc. in the United States. Microsoft is a registered trademark of Microsoft Corporation in the United States and/or other countries.
Press Contacts:

Fabian Sprengel
Tel.: +49 (26 61) 91 26 00
Fax: +49 (26 61) 91 26 029
E-Mail: meru@sprengel-pr.com
www.sprengel-pr.com

Wilson Craig
Tel.: +1 408 516 6182
Director, Public Relations
E-Mail: wcraig@merunetworks.com
www.merunetworks.com


Copyright @ Marketwire
Page: 1
Related Keywords:
Computers/Home Office,Communications,WiFi,Digital Toys,Tablets,Notebooks,Networks,Smart Phone,tablet,Home Networks,Tablet,Sales,Applications,Sales & Marketing,Education,Networking,Server Hardware,Server Computers,Firewalls,Sales,Sales,Pro AV,Post/Production,Presentors,Director,Computers/Peripherals,Network (LAN),WiFi/Wireless,Notebook/Laptop/Tablets,Business Issues,Presentation,Channel/Distribution,Events,Germany,USA,Japan,Marketwire, Inc.,CeBIT Attendees,HP,Television,Games,Game Technology,middle east,Other,
---