Meru 802.11ac Wi-Fi Delivers Uninterrupted Service to ISTE 2014 -- More Than 13,000 Simultaneous Devices With as Many as 1,200 in a Single Room
Meru and Technical Partner CCLD Ensure High Performance of Streaming Voice and Video for Thousands of Attendees in 3.9 Million Square Foot Georgia World Congress Center
(August 12, 2014)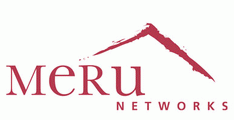 SUNNYVALE, CA -- (Marketwired) -- 08/12/14 -- Meru Networks® (NASDAQ: MERU), a leader in intelligent Wi-Fi networking, today announced that the Georgia World Congress Center (GWCC) has deployed Meru 802.11ac Wi-Fi to support high densities of mobile devices used by event exhibitors and attendees in its 3.9 million square-foot facility. The International Society for Technology in Education (ISTE) show, held at the GWCC June 27 through July 1, 2014, saw more than 13,000 simultaneous connections at peak times, with as many as 1,200 in a single room.
"Networks like ours have to serve a wide variety of 'customers,' from exhibitors to attendees, contractors and our own staff, all of whom expect and require flawless reliability and the highest possible performance," said Mark Zimmerman, general manager of the GWCC. "Meru 802.11ac helps us ensure that we can handle a practically unlimited number of devices running the highest bandwidth applications, including video and voice, on a consistent basis."
ISTE Conference and Expo
For more than three decades the ISTE Conference and Expo has been the premier forum in which to learn, exchange ideas and survey the field of education technology. The event attracts upwards of 18,000 attendees and industry representatives -- including teachers, technology coordinators, administrators, library media specialists, teacher educators and policy makers. Attendees enjoy world-class keynotes, hundreds of sessions in a variety of formats and a massive expo hall.
The use of mobile devices at the show has grown quickly in recent years, with 7,000 peak simultaneous connections in 2013 and more than 13,000 in 2014. The growth is driven by BYOD and by the structure of the sessions, which are increasingly interactive. Attendees are encouraged to use their laptops, tablets and smart phones to engage speakers and use the applications they are presenting. During ISTE 2014, attendees regularly pushed the limits of the GWCC's gigabit Internet connection.
The GWCC spans more than 90 acres (3.9 million square feet) of floor space on multiple levels with three adjacent buildings containing twelve exhibit halls, 105 meeting rooms and two ballrooms. Other amenities include a FedEx Kinko's office, Starbucks coffee shops, a gift shop, a food court and a stand-alone restaurant. More than one million guests attend functions at the GWCC annually, with as many as 125,000 in attendance at some events. GWCC technical partner CCLD Networks, working with the ISTE conference network team, Gather Networks, selected, designed, deployed and managed the network.
"There are lots of Wi-Fi solutions available today, but none of them ensure pervasive coverage, high device-density handling capabilities and seamless roaming the way Meru does," said Jim Jenkins, finance director for CCLD Networks. "Large public venues like the GWCC present a wide variety of challenges that can break connectivity between access points. Meru Virtual Cell technology helps us make sure that all of the users on the property have seamless roaming and high performance, no matter where they are."
Exhibition and convention centers -- with wide open spaces, interference from exhibitors' Wi-Fi networks and a constantly changing environment -- present numerous challenges to providing high-performance Wi-Fi coverage. Unique single-channel and channel-layering options within the Meru MobileFLEX architecture not only simplify adding capacity, but can deliver up to three times the capacity when compared to other Wi-Fi solutions, helping ensure attendee and exhibitor satisfaction.
GWCC uses Meru E(z)RF® Network Manager to provide visibility and control of the network. E(z)RF is a centralized network management software application for Meru wireless LANs. It provides network-wide monitoring, end-to-end visibility and powerful control of wireless deployments. Its intuitive, web-based interface delivers superior ease-of-use and offers instant access to real-time and historical performance metrics on each managed controller, access point and client. E(z)RF can be deployed on a Meru Services Appliance or hosted on a VMware-based virtual appliance.
"Event exhibitors and attendees today depend on the wireless network to help ensure that their experiences are productive and that their time and money are well spent," said Srinath Sarang, co-founder, vice president and general manager of Meru's hospitality business unit. "Providing flawless connectivity is a baseline requirement for large public venues that see increasing densities of devices and users every day. We believe no one does that better than Meru."
Additional information about the Meru Uninterrupted Service solution for hospitality is available here: http://bit.ly/1iwRZ27.
About Meru Networks
Meru Networks (NASDAQ: MERU) is a leader in intelligent 802.11ac Wi-Fi solutions, delivering uninterrupted user experience for education, healthcare, hospitality and enterprise. The Meru MobileFLEX architecture is designed to enable seamless roaming with traffic separation for critical applications, providing top performance and high capacity in high-density environments. Visit www.merunetworks.com or call (408) 215-5300 for more information.
©2014 Meru Networks. Meru Networks, Meru and E(z)RF are registered trademarks of Meru Networks, Inc. in the United States.
Press Contact
Wilson Craig
Mindshare PR
+1 408 516 6182
wilson@mindsharepr.com


Copyright @ Marketwire
Page: 1
Related Keywords:
Applications, Finance, Education, Networking, Internet, Connectivity, Wireless, Architecture, Internet Server Applications, Management, Finance/Accounting, Finance/Accounting, Post/Production, Management, Director, Computers/Peripherals, Internet/Web, Business, Network (LAN), WiFi/Wireless, Notebook/Laptop/Tablets, Internet, Video, USA, Marketwire, Inc., Education Technology, Internet Technology, Business, Internet, Teachers, Other,
---