Helix Linear Technologies Goes Live on Kenandy Cloud ERP
Market Leader of Precision Screws Is Mobilized for Efficiency
(March 10, 2014)

REDWOOD CITY, CA -- (Marketwired) -- 03/10/14 -- Helix Linear Technologies, a wholly-owned subsidiary of Nook Industries, went live today on Kenandy Cloud ERP, the leading cloud ERP application for the global enterprise. Helix is a market leader in the manufacturing of precision linear motion components, such as lead and acme screws used in medical and electronic devices. The company, with headquarters outside of Cleveland, Ohio, was started three years ago to take advantage of a market opportunity.
"We were growing the business so much that we were running out of space," says Chris Nook, CEO of Helix. "We decided to take a product line and move it out to its own facility. The industry is valued at over $300M, and we only know of two other players, so Helix has a lot of growth potential."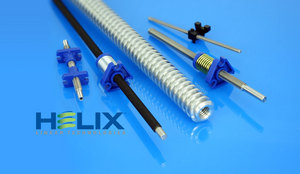 Nook Industries, the parent company, produces linear motion components such as ball screws used in machines that run continuously, such as jetways, linear actuators and vehicle lifts. Nook has an on-premise ERP system, but they didn't consider using it for the new company because it's hard to extend, and it takes a long time to ramp up new staff and manage upgrades. Also, if they want to make any modifications, the vendor has to do them. That's not the case with Kenandy.
"Kenandy uses clicks instead of code," says Nook. "It's simple to hide, change and add new fields, so we don't need to hire developers to do our customization. Additionally, whatever changes we make remain intact during the upgrade process."
One of the many reasons why Nook chose Kenandy was because they wanted a cloud-based solution that's flexible and easy to use -- one that will grow with them as their business grows, and allow them to easily integrate their other applications.
"Most of our orders are online, and 90% of them require some customization, so we integrated our website, our CAD engine, Salesforce, and Kenandy," says Nook. "Our clients come in through our website, configure their product, download the CAD model, and request a quote. The process generates a lead, which eventually becomes an opportunity in Salesforce, and then a sales order in Kenandy. Now we have one seamless process that gives us real-time visibility into all aspects of our business, from order to cash."
Nook was also looking for a system that's easy to deploy, and has social and mobile capabilities.
"We have a completely mobile shop now," says Nook. "Our sales people manage their opportunities and check orders and inventory on mobile devices while they're on the road. The real-time visibility allows us to turn around prototypes in days, instead of weeks. It's a big competitive advantage for us. Additionally, all of our machinists use tablets to view drawings and mange work orders. Mobile devices are extremely efficient and cost effective."
"Helix is one of our many customers that's benefiting from the core value of Kenandy Cloud ERP -- empowering real people to work the way they want to work," says Sandra Kurtzig, CEO and Chairman of Kenandy. "They're benefiting from the ease of use and flexibility, as well as the mobility. The modern enterprise needs technology that adapts to their needs, which includes the ability to collaborate, and work on any device anywhere in the world."
Helix is part of the trend of companies doing all of their manufacturing in the US -- but unlike many companies that are moving their manufacturing back to the US to take advantage of lower energy costs and near-shoring -- Nook Industries has always been an American-made company.
"One of the things my dad learned years ago was the benefit of controlling the manufacturing process," says Nook. "It has allowed us to manufacture the most precise screws in the industry. It also allows us to be closer to the customer, because we can react quickly to their requests."
Using Kenandy has also enabled Helix to get closer to their customers, which is a challenge because their orders come in from around the world, and need to be fulfilled as quickly as possible.
"Kenandy has allowed us to become much more efficient, because it conforms to the user, rather than the other way around. For example, now we can attach a CAD drawing to a work order, which makes our machinists more productive because they know exactly what to make." says Nook. "It sounds simple, but our legacy system does not offer that kind of flexibility. We expect to grow our business with Kenandy, which includes using it for acquisitions and for our parent company as well."
About Kenandy
Kenandy is the cloud ERP platform for the modern enterprise. Kenandy Empowers Real People to work the way they want to work on any device anywhere in the world -- it's easy to use, implement and change. Kenandy automates all of your core business processes including order-to-cash, procure-to-pay, planning and production, and global financials. For more information, visit www.kenandy.com.
Image Available: http://www2.marketwire.com/mw/frame_mw?attachid=2538139

Add to Digg Bookmark with del.icio.us Add to Newsvine
Media Contact:
Media Relations
Kenandy, Inc.
650.468.2000 x200
Email Contact


Copyright @ Marketwire
Page: 1
Related Keywords:
Post/Production, CAD, Computers/Peripherals, Business, Notebook/Laptop/Tablets, CAD/CAM/CAE, Marketwire, Business, Other,
---