BlazeMeter Announces Full Integration to CloudBees by Implementing 'Single Sign On' (SSO)
Performance Testing the Continuous Integration Process Just Got Easier
(June 18, 2013)

NEW YORK, NY -- (Marketwired) -- 06/18/13 -- BlazeMeter, provider of the Apache JMeter™ based load testing platform, today announced its complete integration into CloudBees, the leading provider of Java Platform as a Service (PaaS), which provides a foundation for cloud development and deployment services.
BlazeMeter's implementation of the Single Sign On process signifies its full integration into the CloudBees Platform. BlazeMeter became a CloudBees partner in November 2012, and now CloudBees users can seamlessly log into and purchase BlazeMeter's performance testing services from within the CloudBees platform.
As a result of the integration, Java developers and CloudBees users will be able to performance test their websites, mobile sites or applications faster than ever and optimize application response before deploying to production!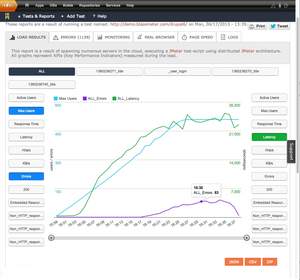 Developers benefit from a load testing process that allows for on-demand engagement of realistic cloud testing as part of the CI process. BlazeMeter's load testing platform simulates browser traffic that originates from the cloud and enables developers to better assess the realistic load capacity their websites, mobile sites or applications can handle. The BlazeMeter application also aids developers in identifying and resolving performance issues, then retesting as needed.
BlazeMeter also offers a Jenkins CI plugin for the open-source tool Jenkins that allows Jenkins developers the ability to launch comprehensive load tests in minutes, using next generation cloud testing tools.
"We're happy to be integrated with the CloudBees Platform. We created BlazeMeter for developers and devops so the built-in integration with CloudBees and Jenkins is the next step," said Alon Girmonsky, CEO, BlazeMeter. "CloudBees allows their customers to scale up very quickly and easily. Scalable load tests with BlazeMeter are cloud-based, fully automated and integrated into the continuous integration process. Our integration with CloudBees removes the friction from performance testing activities that can occur during the build cycle process."
"We're excited to have BlazeMeter, an existing partner, move to a CloudBees Integrated Services partnership. Integrated Partners enable CloudBees users to add their services with a single click. The BlazeMeter team shares our vision for the cloud and the value it provides to developers. Part of this means delivering a simple, self-service approach for our mutual users to subscribe to services."
Getting started with BlazeMeter is simple. Read: How to Use BlazeMeter with CloudBees to learn more. Time to test is less than five minutes.
Users can sign up for a BlazeMeter & CloudBees Webinar 'Adding Performance Testing into the Continuous Integration Process' on Thursday, July 18, 2013 at 10am PDT /1pm EDT.
To register, https://www3.gotomeeting.com/register/129408814
About BlazeMeter
BlazeMeter (www.blazemeter.com) is a self-service, web and mobile load testing platform (PaaS) providing developers an enterprise grade, out-of-the-box load testing solution. 100% compatible with Apache JMeter™. Start testing in under five minutes.
BlazeMeter significantly simplifies the load testing process for web and mobile applications by providing developers easy integration into their native development environment, realistic user simulation, advanced scripting capabilities, unlimited on-demand load testing capacity, comprehensive, interactive real-time reporting, sophisticated result analysis and geographically distributed testing across 8 different locations. Users can easily run multiple load tests, quickly locating and fixing performance bottlenecks.
BlazeMeter provides a free plugin to JMeter, a Drupal module, a WordPress plugin, a Jenkins CI plugin and full integrations with TeamCity (JetBrains), CloudBees and New Relic for simplified load testing.
BlazeMeter has over 6,000 users including banks, government agencies, retail sites, newspapers, online gaming companies, media streaming companies, SaaS companies and hundreds of start-ups. For more, subscribe to the JMeter Cloud Blog and follow the company on Twitter @BlazeMeter.
About CloudBees
CloudBees (www.cloudbees.com) provides a Java Platform as a Service that enables Continuous Cloud Delivery, accelerating the development and deployment of web and mobile applications. With Continuous Cloud Delivery, development teams can quickly deploy applications and make frequent incremental updates to them. By eliminating the friction caused by provisioning, maintaining and administering complex hardware and software infrastructure, CloudBees allows developers to do what they do best: develop cool applications. The CloudBees Platform provides a set of services, instantly activated with a click, that allow developers to rapidly build and run new business applications with zero IT administrative overhead. CloudBees serves the needs of a wide range of businesses from small startups that need to quickly create new on-line businesses, to large IT organizations that need to rapidly respond to dynamic market opportunities. Follow CloudBees on Twitter (@CloudBees) and on Facebook. You can also try CloudBees for free.
Backed by Matrix Partners and Lightspeed Venture Partners, CloudBees was founded in 2010 by former JBoss CTO Sacha Labourey and an elite team of middleware and open source technology professionals.
Image Available: http://www2.marketwire.com/mw/frame_mw?attachid=2338904
Embedded Video Available: http://www2.marketwire.com/mw/frame_mw?attachid=2338907

Add to Digg Bookmark with del.icio.us Add to Newsvine
For media inquiries contact:
Daniela Sztulwark
Marketing Manager
BlazeMeter Ltd.
1.855.445.2285
1.917.668.2995
Email Contact


Copyright @ Marketwire
Page: 1
Related Keywords:
Broadcast, Streaming, Business, Marketing, Internet Media, Marketwire, Internet Technology, Business,
---