Big Demand-Supply Gaps in Software Talent Challenge All Industries
A New BCG Study Finds the Biggest Shortages in Security and Enterprise Applications, but Imbalances Cross All Applications, Languages and Frameworks
(May 28, 2014)

BOSTON, MA -- (Marketwired) -- 05/28/14 -- Fast-rising demand for software talent is creating shortages and demand-supply imbalances for specific skill sets for countless companies across almost all sectors, according to a new report by The Boston Consulting Group (BCG). The report, "Code Wars: The All-Industry Competition for Software Talent," is being released today. Since almost every industry depends on software in some way, the imbalances affect a range of corporate capabilities, including designing products, analyzing data, running facilities, and managing customers.
The largest shortfalls, in terms of types of applications, are in security, enterprise applications, and systems-networking and storage engineers. The security field presents an especially daunting challenge: some 200,000 software security positions in the U.S. are currently unfilled. Meanwhile, there is a surplus of nearly 200,000 employees working with software architecture in the data and database layers and in data management. (See the attached exhibit.)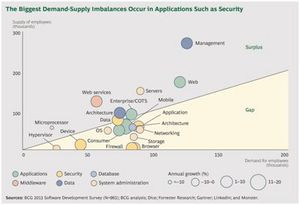 Within security, there is a particularly high shortage of experts in network security (Web and enterprise firewall, for example). The shortages are driven by several trends, including the rapid growth in the popularity of cloud computing and mobile connectivity, the emerging practice of bringing your own device to the workplace, and the rising popularity of Agile software development.
"These trends present companies, especially those in nontech industries that nevertheless need tech talent, with multiple challenges," says Guy Gilliland, a BCG senior partner and a coauthor of the report. "If such companies cannot attract and retain the software expertise they need with current recruiting and retention efforts -- and many cannot -- they risk falling behind in technological capability and product development."
The proliferation of software languages and frameworks adds substantially to the demand-supply complexity. Hundreds of software languages and frameworks are in use today, and they continue to multiply as new software technologies are developed to meet more specialized needs. Some languages, such as FORTRAN and COBOL, have been around for decades and are still in widespread use. Others are only a few years old but power some of the most prolific applications in use today.
Many developers can work in multiple languages and frameworks: BCG research shows that on average, software developers know six languages at an "intermediate" or "above skill" level and three at an "expert" level. The demand for such talent in multiple areas keeps growing faster than the supply. Approximately half the software developers today view skills in three areas as the most important: SQL, Java, and JavaScript. Another third include skills in .NET, C++, and Oracle as well. SQL, HTML, C++, and C# skills are in oversupply; the largest talent shortages are in C, Objective-C, JQuery, and Visual Basic. Another 25 or so languages are also still widely used.
"Fast-rising demand is one problem, but from a management standpoint, the issue is far more complex," says Raj Varadarajan, a BCG senior partner and a coauthor. "Companies also face the challenge of determining the skills they need for their strategy and product development. They need to build the capability, if they have not already done so, to translate corporate and product strategies into resource plans, specifically with respect to software talent."
The BCG report details the results of a study of the demand for, and supply of, software talent in the United States. The study includes a top-down assessment using data from the U.S. Bureau of Labor Statistics, among other sources, and a bottom-up analysis of the employment landscape using data from well-known research firms and employment-related companies and networks. It also includes BCG's own proprietary survey of 1,000 executives who are familiar with software development in a wide variety of high-tech and non-high-tech industries.
Overall, there were more than 1 million software developers employed in the United States in 2012, according to BLS. Demand for software developers outpaced supply by some 35,000 positions and is expected to grow at more than 20 percent per year through 2022 -- a sixfold increase.
The report suggests several steps that companies can take to ensure that they are well positioned to win in the increasingly intense and complex battle for software talent. These include developing a strategic plan for the specific skills they will need; accessing the global talent pool; establishing new employee value propositions; making increased use of third-party talent; and employing emerging recruitment tools and collaboration models.
A copy of the report can be downloaded at www.bcgperspectives.com.
To arrange an interview with one of the authors, please contact Eric Gregoire at +1 617 850 3783 or gregoire.eric@bcg.com.
About The Boston Consulting Group
The Boston Consulting Group (BCG) is a global management consulting firm and the world's leading advisor on business strategy. We partner with clients from the private, public, and not-for-profit sectors in all regions to identify their highest-value opportunities, address their most critical challenges, and transform their enterprises. Our customized approach combines deep insight into the dynamics of companies and markets with close collaboration at all levels of the client organization. This ensures that our clients achieve sustainable competitive advantage, build more capable organizations, and secure lasting results. Founded in 1963, BCG is a private company with 81 offices in 45 countries. For more information, please visit bcg.com.
About bcgperspectives.com
Bcgperspectives.com features the latest thinking from BCG experts as well as from CEOs, academics, and other leaders. It covers issues at the top of senior management's agenda. It also provides unprecedented access to BCG's extensive archive of thought leadership stretching back 50 years to the days of Bruce Henderson, the firm's founder and one of the architects of modern management consulting. All of our content -- including videos, podcasts, commentaries, and reports -- can be accessed by PC, mobile, iPad, Facebook, Twitter and LinkedIn.
Image Available: http://www2.marketwire.com/mw/frame_mw?attachid=2603520

The Boston Consulting Group
Eric Gregoire
Global Media Relations Manager

Tel +1 617 850 3783
Fax +1 617 850 3701
gregoire.eric@bcg.com


Copyright @ Marketwire
Page: 1
Related Keywords:
Applications,Productivity Applications,Security,Database,Software Development,Cloud Computing,Other Applications,Data Management,Other,Languages,Tools,Dynamic Languages,Management,Software Developers,USA,Marketwire,IT (Information Technology),Enterprise Applications,Security,Software Development,Science,Computer Science,Business,Other,
---