Academy Award(R) Nominees Andy Garcia and Vera Farmiga Star in the Romantic Comedy AT MIDDLETON on Blu-ray and DVD on April 1st
At Middleton's Stellar Supporting Cast Features Taissa Farmiga, Spencer Lofranco, Tom Skerritt, and Peter Riegert
(March 26, 2014)

BEVERLY HILLS, CA -- (Marketwired) -- 03/26/14 -- Anchor Bay Films presents Academy Award® nominees Andy Garcia (Ocean's Eleven, City Island) and Vera Farmiga (A&E's "Bates Motel", Up in the Air) in, AT MIDDLETON, on Blu-ray™ and DVD on April 1, 2014. "A funny, joyous look at unexpected love set on a college campus" (Thelma Adams, Yahoo! Movies), AT MIDDLETON also stars Taissa Farmiga ("American Horror Story"), Spencer Lofranco (Jamesy Boy), Peter Riegert ("Dads"), and Tom Skerritt ("Picket Fences"). AT MIDDLETON heads to retail on Blu-ray™ and DVD for an SRP of $26.99 and $22.98, respectively.
Academy Award® nominees Andy Garcia (Ocean's Eleven, City Island) and Vera Farmiga (A&E's "Bates Motel", Up in the Air) star as straight-laced George and eccentric Edith, two strangers who meet on their children's campus tour at the idyllic Middleton College. Failing comically to connect with their kids, George and Edith play hooky together, ditching the official tour for a carefree adventure reminiscent of their own college years. But what begins as an afternoon of fun soon becomes a revealing and enlightening experience that will change their lives forever. A light-hearted romance for adults on the surface, At Middleton is a deeply moving portrait of roads not taken and the timelessness of youth.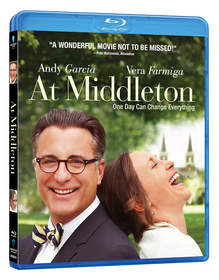 Taissa Farmiga ("American Horror Story"), Spencer Lofranco (Angelina Jolie's forthcoming Unbroken), Peter Riegert ("Dads"), and Tom Skerritt ("Picket Fences") also star in this story about what can happen on your first day of college -- no matter who you are.
AT MIDDLETON has received praise from audiences and critics alike, including such media heavyweights as The New York Times, The Hollywood Reporter, The New York Observer, The Huffington Post and NPR. The film screened to packed houses at multiple film festivals across the country in Seattle, Mill Valley, Boston, Denver, and more.
The New York Times' Neil Genzlinger calls AT MIDDLETON "delicate and restrained" and "a surprise of a film." The Hollywood Reporter's Stephen Farber writes, "Garcia... revealed a gift for comedy in City Island a few years ago, and he revisits that terrain rewardingly here. Farmiga is marvelous." Rex Reed of The New York Observer says AT MIDDLETON features Vera Farmiga in her "best role since she tamed George Clooney in Up in the Air." Writing in The Huffington Post, Marshall Fine calls the film "... that rarity: a romantic comedy that manages to surprise by subverting the formula and coming up with something fresh." "A smooth ensemble piece" and "fun to watch," adds Ella Taylor of NPR.org.
The AT MIDDLETON Blu-ray™ and DVD special features include an Audio Commentary with director/co-writer Adam Rodgers, producer/co-writer Glenn German, and producer/actor Andy Garcia; an Outtake Reel; and "There Was a Day," with vocal and lyrics by Andy Garcia, music by Arturo Sandoval and Andy Garcia, and arrangement by Arturo Sandoval.
"A wonderful movie not to be missed! 'At Middleton' has it all. A smart, adult, funny and romantic picture...Andy Garcia and Vera Farmiga are simply terrific together. This is one to see."
~ Pete Hammond, Movieline
"An adventure of self-discovery... Ms. Farmiga does lovely work."
~ Neil Genzlinger, The New York Times
ABOUT ANCHOR BAY FILMS
Anchor Bay Films is a division of Anchor Bay Entertainment and provides quality distribution with operations in the United States, United Kingdom, Canada, Australia, and offers distribution capabilities in other key territories. Anchor Bay Films uniquely offers the creative community a fully integrated distribution capability on all platforms and an international solution extending beyond the United States. The company focuses on a platform release strategy for its films with an eye toward maximizing their potential across all ancillary distribution platforms. Theatrical releases include Billy Bob Thornton's Jayne Mansfield's Car starring Robert Duvall, John Hurt, Kevin Bacon and Ray Stevenson and Slasher Films' premiere release Nothing Left to Fear featuring music from legendary guitarist Slash. Films in its library include the recent theatrical release of Rob Zombie's The Lords of Salem starring Sheri Moon Zombie, Bruce Davison and genre favorite Ken Foree, 10 Years starring Channing Tatum and Rosario Dawson, the critically-acclaimed comedy City Island starring Andy Garcia and Solitary Man starring Michael Douglas as well as Kill the Irishman starring Ray Stevenson, Vincent D'Onofrio, Val Kilmer and Christopher Walken, and Toronto Film Festival award-winner Beautiful Boy with Maria Bello and Michael Sheen. Anchor Bay Entertainment (www.anchorbayentertainment.com) is a Starz business, www.starz.com.
AT MIDDLETON Blu-ray™
Street date: April 1, 2014
Pre-book: March 5, 2014
Catalog #: BD60220
UPC: 01313260220280
Run time: 100 minutes
Rating: R
Subtitles: English Subtitles for the Deaf & Hearing Impaired; Spanish Subtitles
SRP: $26.99
Format: Anamorphic Widescreen
Aspect Ratio: 1.78:1
Audio: Dolby TrueHD 5.1
AT MIDDLETON DVD
Street date: April 1, 2014
Pre-book: March 5, 2014
Catalog #: AF60218
UPC: 01313260218980
Run time: 100 minutes
Rating: R
Subtitles: English Subtitles for the Deaf & Hearing Impaired; Spanish Subtitles
SRP: $22.98
Format: Anamorphic Widescreen
Aspect Ratio: 1.78:1
Audio: Dolby Digital 5.1
Image Available: http://www2.marketwire.com/mw/frame_mw?attachid=2551383
Embedded Video Available: http://www2.marketwire.com/mw/frame_mw?attachid=2551387

Add to Digg Bookmark with del.icio.us Add to Newsvine
FOR MORE INFORMATION, PLEASE CONTACT:
Julie Siegel for Anchor Bay Films
Tel: 310.836.6200
Email Contact


Copyright @ Marketwire
Page: 1
Related Keywords:
Adults,Children,Movies & Music,DVD,Movies by Genre,DVD Audio,DVD Media,Camera/Film,Business,Blu-ray/HD DVD,Canada,USA,Toronto,Australia,Marketwire,Film,Music,Celebrities,Business,Entertainment,england,Adults,Other,
---